Open Studio Time !
If you are in Madison on May 1, please plan to stop by my studio at 2017 Jenifer Street between 11:00 -5:00 and see what I am up to.  I will be participating in the 6th Annual Marquette-Atwood Neighborhood Art Walk.
It is an annual self-guided art walk through our wonderful Near East side Marquette and Atwood neighborhoods.  I will join other artists who will open up homes and studios for this one day event to share our artistic talents and creative spaces with neighbors, friends, and art lovers.
Spring 2016 is full of serious  art fun for me in 2016.  I am planning a spring and summer worth of art classes and workshops to offer (please help me get the word out), as well as
Spring and Summer Watercolor and Creativity Classes and Workshops in Madison, Spring Green and Door County.
In 2016 I am launching my  Creativity Lessons website as the home for my art and creativity offerings, in-person and online.  This is where I list my art classes and workshops, as well as upcoming offerings in the realm of creativity coaching, consulting.
In Madison
On Tuesdays starting May 3rd 2016,  I will be offering a series of ten afternoon and evening watercolor classes  and open painting studio at the beautiful Threshold building on Atwood Avenue on Madison's Near East Side. 
Absolute beginners through advanced watercolor  painters can take one or both of the the two 5 class series or pick just one class on a topic of their choice. the two 5 class series or pick just one class on a topic of their choice.  The classes and open painting studio can be taken together for a longer painting intensive.
My Watercolor from the Center Series I and II will offer classes on Tuesdays from 1:00-3:30 or from 6:30-9:00.
I will cover the following topics…
Series I, Tuesdays May 3-June 7: Water and Color Basics; Washes and Expressive Mark-Making;  Controlling Wet-into-wet; Texture and Adulteration; To Resist is Good.
Series II, Tuesdays,  June 14-July 12: Inspiration by Chance, Positive Shape Painting; Negative Shape Painting; Techniques that will get you kicked out to the Transparent Watercolor Society; Watercolor on Canvas and Synthetic Papers.
Guided Open Painting Studio,  10 Tuesdays afternoons, 4:00-6:00, May 3-July 12.  Would you like to work on your own art but in the company of other artists with the available feedback of a professional artist?  Plan on joining in.  May be taken with Watercolor from the Center Series offerings.
Madison Weekend Workshop offerings:
The Re-Vision Art ad Creativity Workshop-Mixed-media (May 21-22)  and the Re-Vision Watercolor Workshop (June 25-26) offer arts-based exercises designed to help you bring your most authentic voice to your art, and to re-cover your vision for yourself as a creative person.  If you want to expand the content of your art while exploring through art what really matters to you, these workshops should be on your radar.  They offer creativity coaching through art making.  You do not need to consider your self as artist to participate in these workshops.
Watercolor Workshops near Spring Green  at the beautiful Frank Lloyd Wright designed Wyoming Valley School Art and Cultural Center near Spring Green.

I will be offering two two-day workshops, that can be taken separately or combined for a watercolor intensive.
Watercolor:  A Fresh Start, (Friday and Saturday, July 22-23) for absolute beginners and those desiring a refresher in basic watercolor techniques, followed by,
Advancing Your Watercolor, (Sunday and Monday, July 24-25) a watercolor workshop designed for artists with some experience interested in advancing their creative  and technical approach to watercolor painting, and expanding their subject matter.
Meanwhile, in my own creative practice, I have been thrilled to be able to present the newest version of my collaborative environmental art exhibition and web-based project with Mary Kay Neumann at the Center for Visual Art in Wausau, Wisconsin.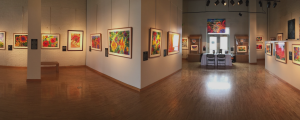 If you are near Wausau between now and May 14th please stop in and see our exhibition The Flowers Are Burning:  Incandescent Watercolors at the CVA.  If you saw the exhibition in Madison you will find that the exhibition has expanded by three times in size to display over forty artworks addressing issues associated with the stresses of climate change and its consequences.  If you are unable to see the exhibition please look at the resources we have gathered on our website.
As an artist I am proud share my collaborative creative art works designed to use art to encourage our audience to believe what we do and how we move through the world matters.  We seek to help ourselves and others move from imagination to action.
As an art educator I look forward to working with other creatives to help them imagine how they can expand their own creative work and voices and move from inspiration to making.
I wanted to get this blog posted on the Square Root Day of 4.4.16 as a metaphor for how our efforts can be quadrupled this year by coming together in common cause.  I've just made it!