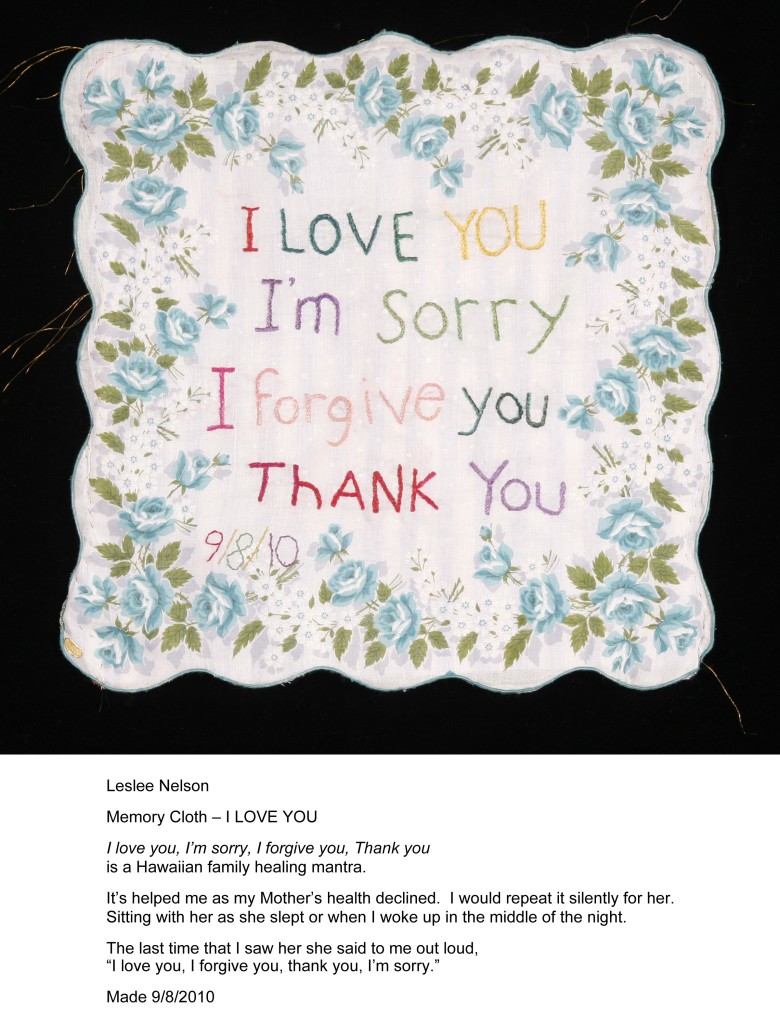 Artist Leslee Nelson creates Memory Cloths using the creative process to reflect on her life and makes art from her memories.
In December 2005 Leslee Nelson  saw an exhibit, The Art of War, which included Memory Cloths from South Africa. These brightly colored fabrics had embroidered images from the maker's memory. Accompanying them were narrative paragraphs, the maker telling the story of the scenes depicted. It was part of an effort to reclaim the memories of women's experiences of Apartheid left out of the Truth and Reconciliation Commission's official record.
It was an A-HA moment for her.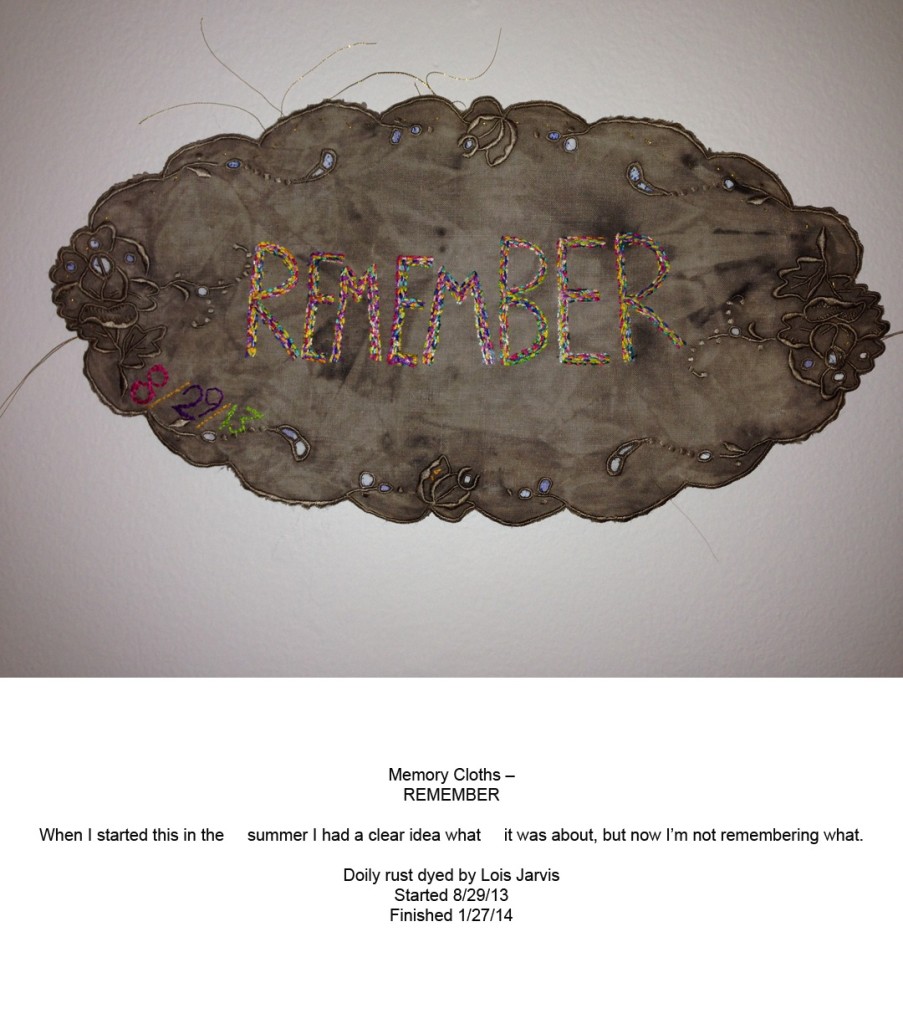 Since then Leslee has  been making these embroidered stories from her life. She embroiders images on a vintage textile (mostly her Mother's or Grandmother's) and writes the story of the memory that is exhibited next to them.   Leslee  started with stories from her childhood, from her travels and from her love life. For the artist the process of making have been are very healing to make.  Occasionally she embroiders meaningful words she want to embed in her memory.
Leslee is careful to attribute her inspiration for the project to the South African women fiber artists who stitch their own lives and experiences into their work.  Even as she found herself inspired buy the process of using the arts, and fiber arts in particular, to capture meaningful memories, it has been very important to Leslee  to avoid appropriation of the specific traditional cultural forms and images that drew her in originally.
In 2012 Leslee went to South Africa and was invited to speak at the Phansi Museum where the  South African artists Memory Cloths are currently on display in the exhibition  Amazwi Abesifazane: Voices of Women.  The South African women artists were pleased and delighted with how engaged Leslee has become with their process.
"I felt a little guilty about stealing this idea from these women who have these incredible traumas (in their past) — people being murdered, their houses being burnt down," she said. "I told them how I'd come to this healing place and asked if that had happened to them. And they said yes, basically, that is the whole point.
"They talked about how part of (the process of memory cloths) was the making of it, and part of it was putting it on the wall until it no longer triggered a response," she said. "They were so delighted that I had fallen in love with their process and was doing it here, too"
Leslee was honored that these artists where so generous and supportive of her art making.
If you live near Madison Wisconsin you will have a chance to see her wonderful artworks in person.
Plan To Attend!
Memory Cloths:  Leslee Nelson
February 3-April 12
In collaboration with the
Wisconsin Academy of Science Arts and Letters
1922 University Avenue
(Weekdays, 10:00=4:00 PM)
Exhibition Reception
February 23, 2014, 1:00-3:00 PM
A Chance to Make Your Own Memory Cloths
If you are in Madison you are invited to join Leslee in Making Memory Cloths, Wednesdays, Feb 2 – April 30, 1:30 – 3 pm at the Lakeside Street Coffee House,  402 W. Lakeside Street, Madison.
Two Chances to hear Leslee Nelson Speak on her art and influences
 Leslee retired from the University of Wisconsin-Madison in December 2012 after 32 years.  She both taught in the art department and did art outreach through the Division of Continuing Studies.  Art outreach included organizing non-credit outreach classes for adults and being the director of the Wisconsin Regional Art Program.  Come to her  Emeritus Lecture, Finding Joy in Art Textiles and Travel on Sunday, April 27, 2-3pm at the Pyle Center, 702 Langdon St, Madison, Wisconsin
Leslee will also be talking about the cross cultural inspirations on her work at the Madison Wisconsin Regional Arts Program (WRAP) Workshop on April 12, 2014, also at the Pyle Center.  There is a small fee ($5.00) for participants who are not participating in the Madison WRAP exhibition.