I am just back from an enjoyable weekend teaching my workshop, Watercolor: a Fresh Start, at the Frank Lloyd Wright designed  Wyoming Valley School Cultural Art Center to a wonderful group of creative learners.  The WVS is just 40 miles west of Madison and six miles from Spring Green, Wisconsin in the heart of the Wisconsin River Valley where I grew up.
The workshop was billed as being for absolute beginners and for those who needed a refresher after time away from watercolor.  I had a fabulous group of 13 participants that braved trying out a new medium and making it their own.  Workshop participants will recognize the small painting above as my final demo of the workshop, created to show how to use the wet-into-wet techniques they had learned  to paint flower pedals (I send a special thank you to photographer Jamie Wilson Carroll for lending her wonderful dahlia photograph to the cause).
Instruction introduced participants to basic wet-into-wet watercolor techniques, and began to suggest how to use the techniques in paintings.  (Some participants were especially excited by an approach to painting Queens Ann Lace, recorded here on Youtube for me by Akeem Torres).  Most importantly, the workshop promoted the perspective that art is an ongoing process that our paintings or other artworks simply document.  Meaning, the larger process is far more important than any individual work of art, so relax, and have serious fun while exploring new ideas, techniques and mediums, whatever they may be.  Our class motto is "Exactly how much fun CAN we have painting with watercolor?"
This was the first of three workshops I'm teaching at the Frank Lloyd Wright designed school this summer.  My workshop is being offered along with other art, creativity and environmental workshops being offered by Liese Pfiefer, Bev Gordon, Marian Farrier and Amy Jo Dusick.  There is still time to sign up.   Most of the workshops are limited to 15 participants but there is still room for a few more participants.
Having the opportunity to spend a length of time teaching and learning in this lovely space is a real treat (and its air conditioned).
Our upcoming summer workshops include:
Watercolor From the Center with Helen Klebesadel, Monday-Friday, July 16-20, 2012, 5 days of workshop,  10:00-4:00 daily, (mixed media artists welcome).
Watercolor: The Expressive Medium with Helen Klebesadel, August 17-19, 2012 (2.5 days), Friday afternoon (4-8), all day Saturday (10-4), and Sunday (10-4).
Introduction to SoulCollage®: Intuition Through Imagery with Subanna Nur (Beverly Gordon), Sunday, July 15 2012, Sunday 10:00-4:00
Patterns In Nature Workshop with Marian Farrior and Amy Jo Dusick, Monday, Monday, July 16, 2012, 10:00 am to 3:00 pm
Give Meaning and Memory through Mixed Media, with Liese Pfeifer. August 17-19, 2012 (2.5 days),  Friday afternoon (4-8), all day Saturday (10-4), and Sunday (10-4).  Participants can sign up for each day separately with the following focus:   Friday  Perception and Intention in Art;  Saturday,  Found Object Dilemma/Breaking the Rut; Sunday, Mixed media collage as purveyors of meaning.
For longer descriptions, schedules, and registration information of the workshops being offered this summer go here.
More about the Wyoming Valley School Cultural Arts Center
The Wyoming Valley School Cultural Arts Center is worth a visit just to see how Frank Lloyd Wright imagined the space in which education should take place for elementary aged children.  The school hold a special place in my heart because its where I went to grade school.   I grew up on a farm about a mile away and went there for first through sixth grade.
The school was built in 1957.  I remember as a small child being taken by my father to see the construction underway of the building that would be my first school.  While there we had a chance meeting Frank Lloyd Wright who had stopped by to observe the construction himself.  It speaks to how old I was that I remember him as a tall man, though he was not.
Mr. Wright donated his design and 2 acres of land to the Wyoming School District in honor of his mother, Anna Lloyd-Jones Wright.  She had been a kindergarten teacher and encouraged his lifelong love of learning.  The school opened in 1958 with 46 students in grades 1 through 8,  and later in grades  1 through 6.  Children from the Taliesin Fellowship, just down the road, attended the school as well.
As the only two class-room school (with an additional large lunchroom/gym) designed by the foremost American architect, the school was a wonderful place to start your education and develop a life long love of learning.   Like the old one-room school house it replaced, students in several grades took instruction together in the same room.  Younger students listened to the lessons of those ahead of them, and it was not hard to insert an advanced or slower learner in exercises appropriate to their learning level despite their official grade.
I have many memories of my six years as a student at the Wyoming Valley School, including being invited to Taliesin's small theater as a first grader with the rest of the school's children to watch animated  films from Japan.   It has been an extreme pleasure to return there to teach and share my own passion for the arts, carrying on the tradition the school was designed for.
In 1977, the school consolidated with the River Valley School district and was used as school for fourth graders only for 'a year in the country.'    In 1990, with River Valley facing more consolidation, the school was sold.  The building then changed hands several times but mostly remained empty.  In August of 2010 the school was given to the not-for-profit Wyoming Valley School, Inc., by Jeff Jacobsen, a local landowner and neighbor of the school. A Wisconsin State Journal article  written by Gayle Worland last year, when the Center opened, describes the efforts of local volunteers to bring the vision of an arts and culture center to Wyoming Valley and preserve another part of Frank Lloyd Wright's legacy.
Recognizing its original use as a school, the Wyoming Valley School Cultural Art Center Board of Directors is working hard to find ways to support the organizations legacy and mission as an educational center, by offering arts and cultural workshops, performances, lectured, and exhibitions to the community.
You can find their schedule of events  including the weekly Wednesday Night Arts Gatherings—6:30 p.m. to 8:30 p.m.Every Wednesday evening, Wyoming Valley School hosts a drop-in gathering of local artists, writers, poets and readers.
Visual artists are encouraged to bring their own supplies to draw, paint or sketch during the two hours. Writers are encouraged to bring samples of work for discussion, brainstorm ideas, talk about their obstacles, ways to get published, etc. People who love literature should come with reading suggestions or read aloud from favorite passages. Poets may read their works aloud or discuss poetry with others. Wyoming Valley School seeks to provide a space away from the distractions of home for folks to be creative,  discussion or just have quiet time. Plans are underway to designate music nights and dance nights as well. There are volunteer facilitators for the various groups. At the moment, these Wednesday Gatherings are reserved for adults only. For more information contact Kate at 608.753.9000.
If you visit visit, the River Valley area and the Wyoming Valley School, you will be near the home to Frank Lloyd Wright's National Historic Landmark site Taliesin, and the Frank Lloyd Wright School of Architecture. Near to the Taliesin property is the wonderful American Players Theater.  The company performs its Shakespeare and related repertory year-round to large appreciative audiences.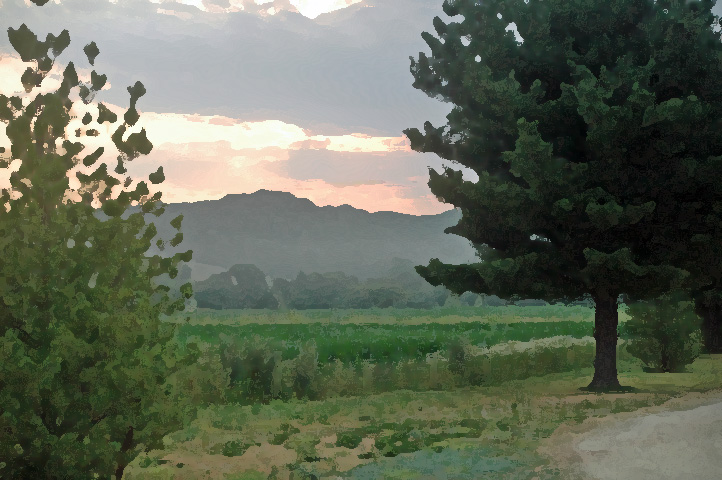 Within a mile of the school is the new White Church Theatre Project.  The 1902 Methodist church (which was my church growing up), is now the new summer residency of the London based Theatre de l'Ange Fou and International School of Corporeal Mime.  Slated to open this summer, the project will soon offer Summer School, workshops, performances, lectures, and films .
The Wyoming Valley School Cultural Art Center is in the heart of a culturally significant and beautiful part of Wisconsin.  Refurbishing and maintaining the 1956 Frank Lloyd Wright designed school building as an educational center in the Wyoming Valley will not only preserve and restore this significant piece of architecture, it will also provide  a much needed  space to enhance arts education and creativity. The concept that guides the Board of  Directors of the Wyoming Valley School Cultural Arts Center is to offer a place to  bring young students and their families together in pursuit of creative education, while paying homage to Frank Lloyd Wright, utilizing his building for its original intent.
Wyoming Valley School, Inc is a Wisconsin registered not-for-profit 501c3 organization.  Donors, volunteers,  and supporters that share this vision are sought.  (Volunteers are maintaining the building and the grounds, as well as contributing to grant-writing and other fundraising efforts.) Contributions are much appreciated and can be made out to Wyoming Valley School, Inc. and are tax deductable.
The Wyoming Valley School Cultural Arts Center is a wonderful place to expose yourself to new arts, culture and creative experiences or it may be the place to plan public arts and cultural events of your own that fit within the Center's mission  For more information or to inquire about how you might support the effort to preserve the Wyoming Valley School and its mission contact:   [email protected]
I love having the opportunity to teach art at the Wyoming Valley School Cultural Art Center, with its open space, elegant lines and amazing light.   If you would like a chance to explore your own creative impulses plan to join us for one or more of our upcoming workshops in a building designed for learning.
It turns out you really can go home.