I have recently delivered artworks for two upcoming art exhibitions that I am proud to be a part of.  I have been deep in my studio practice for the last several months and it is time to share what I have been working on.
Marquette-Atwood Neighborhood Art Walk
Next week I will be  tidying up my back-yard studio and making it ready for visitors.  Please put Sunday, May 5th on your calendar and stop by my open studio at 2017 Jenifer Street in Madison, as a part of the Marquette-Atwood Neighborhood Art Walk from 11:00-5:00.  Mine will be one of the thirty studios where artists will be inviting in the public and sharing their ceramics, watercolors, jewelry, glass work, acrylic paintings, fiber art, stop motion animation, and more! I'll have maps, but so will Hatch Art House, 1248 Williamson St., Stone Fence, 2322 Atwood Ave., and Modern Talisman, 1937 Winnebago St.  Plan to stop by!
I consider myself to be a fine artist and educator, and I will be sharing my small paintings and prints for the open studio.  For years I have also engage in social practice art,…art which  which strives to create social or political change through community-based and participatory projects, often presented outside of art's traditional gallery space. ( Readers may be familiar with the collaborative feminist art project The Exquisite Uterus, that I have facilitated since 2012 with sister artist Alison Gates, and  The Flowers Are Burning Climate Justice Project is another art-based actives project I am engaged in with artist Mary Kay Neumann. )
The Tar Sands Visual Storytelling Project
Next Friday, April 26th another social practice project I am one small part of  will launch in Neilsville, Wisconsin.   The Tar Sands Visual Storytelling Project will open with a reception and first viewing at the Clark County Art Center (CART)  before heading out on a tour to other sites along the route through the existing Enbridge Pipeline Line 61 that is proposed for a large expansion to carry even more Tar Sands oil to refineries on our southern coast in preparation for sale internationally.
The opening reception is 6:00-8:00 PM on Friday April 26, 2019 at CART in Neilsville, WI.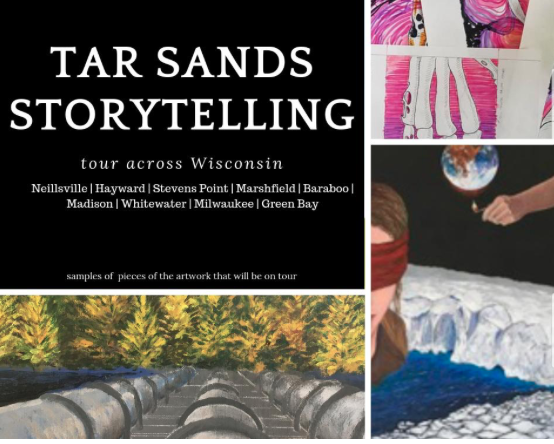 Ten artists from around the state have come together to tell the story of tar sands in the state of Wisconsin. Our work collectively illustrates the process and threats of tar sands pipelines for Wisconsinites. Contributing Artists are Marjorie Steele Halverson, Black River Falls;  Anne Jensen, and Christine Keller, Neillesville; Laura Donovan, Paul Hinsa, Donna Post, Cable;  Lorenzo Lee Backhaus, Milwaukee;  Joan Walker, Humbird; Daniel Torres, Milwaukee; and myself in Madison, WI.
The Sierra Club website articulated the issues that inspired this project and move us to use our art to being attention to our concerns:  Tar sands pipelines have the potential to wreak havoc on our waterways, our communities, and our future.  After the Kalamazoo tar sands spill, we learned that tar sands oil differs from traditional oil in the difficulty (or maybe even the impossibility) of cleaning it up.  This means that the St Croix River, the Namekagon River, the Wisconsin River, the Rock River, and others crossed by pipelines are at risk.
As the dirtiest form of oil, tar sands is so carbon-intensive that former NASA scientist James Hansen said development of tar sands oil would mean 'game-over for the climate'.  Finally, recent pipeline approval processes with the Dakota Access Pipeline and the Line 3 Pipeline have shown how pipelines jeopardize treaty-protected resources, sacred sites, and the inclusion of tribal governments in permitting processes
All of these potential impacts will be described in a visual storytelling project. Ten artists from around the state have come together to tell the story of tar sands in the state of Wisconsin. The art exhibit is comprised of ten, mixed media panels,   Each artist has researched and reflected on one aspect of the often unknown oil pipeline which pumps over 1.2 million barrels of tar sands oil through the state each day. The result is a diverse, powerful, and nuanced look at the oil pipeline story which affects each and every Wisconsinite.
This event is sponsored by CART, the Sierra Club, the Wisconsin Youth Network (WiYN), the Wisconsin Safe Energy Alliance and additional partners.   Following opening weekend, the installation will accompany a youth coordinated "Tar Sands Campus Tour".  After opening at CART Friday, April 26th, the exhibit will proceed to:
Lac Courtes Oreilles College | April 29 | 10:00 AM
UW- Stevens Point | April 30 | 1:00 PM
UW-Marshfield | April 30 | 5:30 PM
UW-Platteville Baraboo | May 1 | 9:00 AM
Gaia Gathering | Madison | May 2
UW-Whitewater | May 3 | 6:30 PM
UW-Green Bay | May 5 | 10:00 AM
UW-Milwaukee | May 6 | 6:30 PM
Check out the Tar Sands Visual Story-Telling Project as it comes near you!  Then plan to put the James Watrous Galley in the Madison Overture Center in your calendar for another art experience focused on bringing awareness to our changing climate.
Uprooted:  Plants in a Changing Climate
I am honored to be one of seven artists in the upcoming exhibition Uprooted:  Plants in a Changing Climate.  Organized by the Wisconsin Academy of Science Arts and Letters, the exhibition runs from April 26th to June 23, 2019.
Exhibition Reception, May 17, 2019, 5:00-7:00, artist panel starts at 5:30,  exhibiting artists talk about the work created for Uprooted.
"In an era described as the Sixth Great Extinction, plants both rare and familiar are at risk, and climate change is accelerating the loss of unique habitats and species. For Uprooted, we've asked five Wisconsin artists to create new work focused on the diverse plant communities under threat in Wisconsin. Cynthia Brinich-Langlois and Bethann Moran-Handzlik have turned their attention to the northern forests; Helen Klebesadel and Lynne Railsback have focused on central Wisconsin's prairies and oak savaanna; and Katie Musolff has been planting amid wetlands and gardens near the Mississippi River. Uprooted will also include a group of black ash baskets by Marian Miner and birchbark pieces by Terri Hom, as climate change is accelerating the vulnerability of both birch and black ash.
All of the work created for Uprooted has been informed by direct observation in the field as well as consultation with naturalists and scientists who are tracking the impact of climate change. We hope this exhibition will raise awareness about the serious threats facing our region's fragile plant communities, as well as the wildlife that depends on these plants for food and habitat."
For this exhibition I was one of seven participating artists, some of whom were invited to create new works focused on important plant communities in Wisconsin, first meeting with scientists who are experts on the ecosystem that were our subjects.  I was paired with Evan Eifler,  a PhD Candidate in the UW Madison Department of Botany.  Evan has a life-long love of Wisconsin prairies and I was privileged to get to walk local prairies with him and learn from his expertise.  (Thank you Evan).
Please join us for the exhibition and other associated events:
Artbites for Uprooted, April 28, 2019, Join experts and artists at the table for brunch and conversation inside the James Watrous Gallery.
Nature Journaling Workshop in the UW Arboretum with Helen Klebesadel, May 19, 10:00-1:00.  Participants of all levels are invited to join in developing their nature journaling skills in their medium of choice. Participants are required to bring their own supplies (sketchpad, paper, medium of choice, etc). Lunch will be offered following the workshop for those who plan to stay for the free afternoon lecture—Poetry, Plants, and the Anthropocene—or for those who work up an appetite journaling in nature!  (Advance registration is required as space is limited)
Poetry, Plants, and the Anthropocene, a talk by Lynn Keller at the UW-Arboretum, 2:00-3:30, May 19, 2019.  Poetry, Plants, and the Anthropocene will introduce work by contemporary American poets whose representations of plants draw attention to human-caused environmental devastation and the consequences for both human and non-human lives.
[email protected], June 21, 2019, A free, informal tour of Uprooted: Plants in a Changing Climate with exhibition curator Jody Clowes. No registration required.
I extend my thanks to the WASAL and curator, Jody Clowes for creating this wonderful exhibition and inviting us to participate.  Stop by the James Watrous Gallery between Friday April 26 and June 23rd.  Stop by!